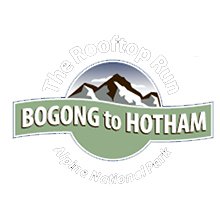 BOGONG TO HOTHAM
Saturday 16th Jan 2021
29k – 35k – 64k
A classic mountain ultra race across the rooftop of Australia's high country
Bogong to Hotham's rich history is embedded in Australian trail running folklore. Originally named "Rooftop Run", it was first held in 1984, and it continues to attract some of Australia's best mountain runners.
Starting at Mountain Creek Campground, runners climb the massive Mt Bogong, descend T-Spur to Big River before the next big climb up Duane's Spur to reach the Bogong High Plains. Passing through the main aid station at Langford Gap, runners continue across the high plains before dropping to the Cobungra River and climbing Swindler's Spur on the way to the finish at Mt Hotham summit.
One of the toughest races mile-for-mile in Australia, it offers the most spectacular views, the most amazing experience and a real challenge for trail runners.
The tough terrain is equalled only by the extreme high country weather. In 2004 and 2007, and now in 2020, the race was cancelled due to bushfires in the area. In 2012, the race was abandoned midway when, in true apline character, extreme whiteout conditions passed through. Then in 2013 severe weather prohibited the race start and in 2015 the river levels were too high for a safe crossing.
Are you up to challenge nature at its harshest and its most glorious?
Sponsors
We choose sponsors and partners because we believe in their products.  We are confident you will be satisfied as you check them out and support them. If you have a product you would like to share with our running community, please contact us for a chat.  We'd love to hear from you.