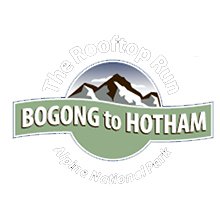 BOGONG TO HOTHAM
2022 date TBA
UPDATE
Plans and discussions regarding the 2022 staging of the Bogong to Hotham trail run is in progress.  Please check back at a later date for updated information.
A classic mountain ultra race across the rooftop of Australia's high country
2021 would have been the 33rd running of Bogong to Hotham, AKA the "Rooftop Run". 
B2H is a classic race with a rich history embedded in Australian trail running folklore. 
Starting at Mountain Creek Campground, runners climb Victoria's highest mountain, Mt Bogong, descend T-Spur to Big River before the next big climb up Duane's Spur to reach the Bogong High Plains.
Passing through the main aid station at Langford Gap, runners continue across the high plains before dropping to the Cobungra River and climbing Swindler's Spur on the way to the finish at Mt Hotham summit.
Undoubtedly, one of the toughest races mile-for-mile in Australia it offers the most spectacular views, the most amazing experience and a real challenge for trail runners.
PLEASE NOTE SOME CHANGES FOR 2021
NOTE THAT THIS INFORMATION MAY OR MAY NOT BE RELEVANT FOR FUTURE RUNS.
THIS PAGE WILL BE UPDATED WHEN MORE IS KNOWN.
2021 will be a grass roots style re-introduction to the B2H run.  This will require the participant to be more self sufficient, by carrying more of their own food supplies. 
It's a Saturday run NOT a Sunday.
Post Race presentation is Sunday brunch, NOT Sunday dinner.
COVID restrictions apply, what ever they are in January.  More details will be given closer to the date if necessary.
Briefings will most likely be online documents, NOT live, and will require sign off.
Mandatory Gear Checks will be self assessed based on info provided, and will require sign off. Disqualification for incorrect gear during pre race or during race spot checks. These are serious safety issues and entrants must not attempt to bypass this requirement.
Early start times and wave starts made available. Faster runners can not start early.
Extended finish time total cutoff to 13 hrs at finish (that's 1 extra hour). If you are an early start then its 14 hrs at finish (that's 2 extra hours).
35km Langford cutoff for 64km event extended to 7hrs.
35km Langford cutoff for 35km event extended to 8hrs.
Qualifications
Why do we require some qualification of your running experience?
It's pretty easy really. This run is one of the toughest mile for mile runs in the country. It requires that you are in very good shape and have all the mandatory equipment as listed. Your safety is our priority and we won't put you out there if you are not quite ready. While the qualifying requirements for the 64km and 35km are the same, there is not quite the same requirements for the 29km.
The 29km is an introduction to high country trail running. It still has a very challenging climb and awesome views and is a great achievement to complete it. You still need to have some trail experience, and you certainly need all the mandatory gear.
So, when you register, tell us what you have been up to or contact us to chat about your entry.
The following qualities are considered when assessing entries:
trail experience
endurance
pace/speed
Entrants need to be able to satisfy all of these to gain entry. This is assessed most easily through a suitable race result but a combination of experiences demonstrating abilities will be considered when assessing eligibility. 
There are many accommodation options in the area.  The following towns are closest to the start:
Tawonga – 10-15 minutes drive
Tawonga South – 15-20 minutes
Mt Beauty – 20-25 minutes
Bogong Moth Motel in Tawonga South is a great option and highly recommended.
Mountain Creek Picnic Area has a very limited space for camping at the start line.  This is not exclusively reserved for the run and will most likely be shared with hikers. There is only a pit toilet there and water from the creek (so bring your own). It is recommended that runners seek alternative accommodation, rather than rely on this small camping area.
START LINE
There is no bus to the start line at Mountain Creek. 
There is limited parking available at the Mountain Creek Campground.  Competitors are encouraged to carpool from Tawonga or Mt Beauty.
LANGFORDS GAP
Transport will be provided for 35km runners returning to Mt Beauty from the finish line at Langfords Gap, and for 29km runners travelling from Mt Beauty to the start line at Langfords gap.
A ticket that includes the bus must be purchased in order to use this option.
FINISH LINE
Transport will be provided for 64km and 29km runners returning to Mt Beauty from the finish line at Mt Hotham.
A ticket that includes the bus must be purchased in order to use this option.
Sponsors
We choose sponsors and partners because we believe in their products.  We are confident you will be satisfied as you check them out and support them. If you have a product you would like to share with our running community, please contact us for a chat.  We'd love to hear from you.